You can save time and energy when it comes to everyday washing up with this freestanding white Hotpoint dishwasher. This dishwasher can wash up to 14 place settings in every single wash which is equivalent of 140 items! It even uses sensors to calculate which cleaning conditions would be suited to each load. It even features innovative technology such as 3D Zone Wash and Flexiload. The dishwasher is easy to use due to its digital interface which will help you select the best programme for you and your dishes. Hotpoint have created a motor which runs at 46bd which has the same noise level as a library. This is whilst still providing more power and control over performance, making it Hotpoint's most advanced motor to date.
Key Features
3D Zone Wash
The powerful water jets from the upper and lower arm sprays combined with the variable speed inverter motor makes sure exactly the right amount of water is being used throughout the basket for 40% more energy efficiency or 40% more powerful cleaning, depending entirely on what you need.
Inverter Motor
Due to its various spinning speeds the innovative inverter motor is able to calibrate water pressure and also cleaning force. As well as all of this the magnets allow a precise control of the sprayers, directing the water with the right pressure into the right spot at the correct time.
Flexiload
This Hotpoint dishwasher has the capacity for up to 15 place settings which is created by a flexible storage system, including an innovative vertical zone that will allow you to secure your pots and pans vertically which will result in free space in the baskets below.
Activeco
The dishwasher also has an automatic door which opens at the end of the program which ensures a more natural drying process. This technology will guarantee higher energy efficiency and also better drying results for all of your pots, pans and cutlery.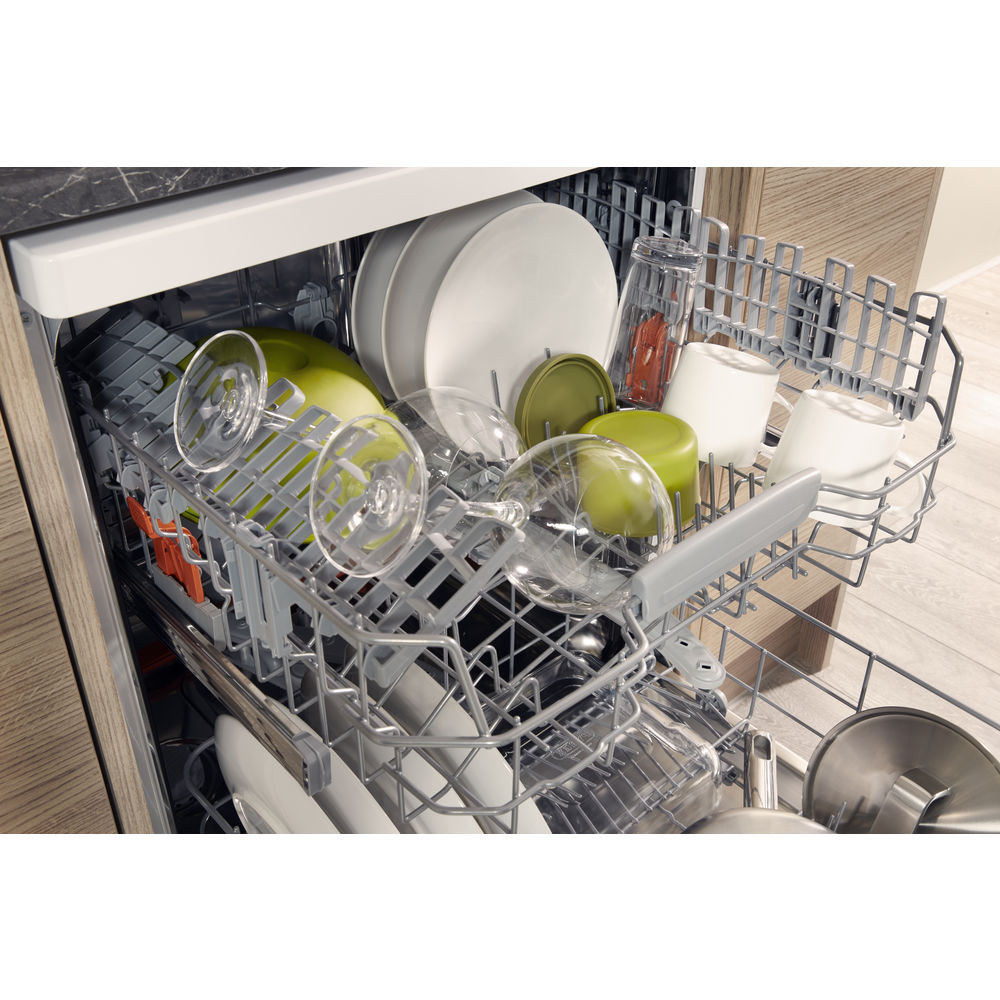 Extra Information
The dishwasher also includes an LED interface which lets you select the best programme for your washing up needs including a Half load option which will save you handwashing, a 30 minute Rapid Programme for when you don't have enough time for a usual load time, A delay timer which will schedule to the time of day when you need sparkly clean dishes the most. As well as these the dishwasher also includes an Eco and Intensive programmes too.
In addition to all of this, this superb dishwasher also has a stainless steel hub for better hygiene and also drying results. For even more cleanliness you are also capable of selecting the sanitizing program which uses a special cleaning solution whilst the machine is empty so that the cavity is always kept in incredible condition. This dishwasher truly is perfect for any kitchen and will suit all of your washing up needs and beyond.
With outstanding features and class-leading build quality Hotpoint is the perfect choice for your next Dishwasher, however, you still require great customer service and delivery options for Bodmin. At The Lighthouse Electrical you can get the HFC 3C26 W UK Dishwasher with great service and a guaranteed excellent price, click here for more information.